By M. English
21st Century Media News Service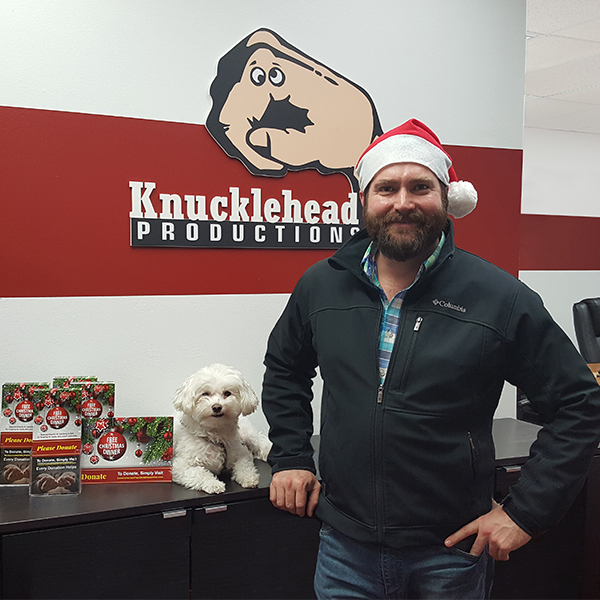 Josh Leone, spokesman for the annual Conshohocken Free Christmas Dinner project, relaxes with sidekick "Mr. Pickles" between efforts to raise additional funds for this year's event. The Dec. 25 holiday meals are free to anyone in need and may be pre-ordered through Dec. 21. Submitted photo
CONSHOHOCKEN — Just about every year for the past 10, Josh Leone has managed to pull off a small seasonal miracle: a free Christmas Day dinner — no strings attached — for anyone who requests one.
Leone lives in Plymouth, runs an advertising agency/web and graphic design firm called Knucklehead Productions in Conshohocken and believes … well, as he puts it, "Charity begins at home. This is a great town, a great area to live in and work in, and I consider it a privilege to be able to give back in some small way."
That said, Leone emphasizes he and Co-Chair Chuck Mandracchia, who heads Conshohocken-based TPM construction and project management, can't — and don't — do it alone. The holiday meal that Leone and a handful of friends spearheaded a decade ago has fed anywhere from 300 to upwards of 650 adults and children on Dec. 25. It began as a sit-down dinner at the Conshohocken Fellowship House and is now distributed as takeout platters — prepped for pickup at nearby Izenberg's Deli-Restaurant, 401 Fayette St.Regardless of format, the 501(c)(3) nonprofit project has always been supported by "generous" corporate, civic and individual donations. But this year, those contributions are way down, and Leone is hoping procrastination — not indifference — is to blame.
"We appreciate every donation people give us … $5, $100, every single dollar helps," Leone says. "I can't emphasize that enough. It all counts."
At press time, individual donations were "trickling in … maybe a couple every day," he continues. "But so far, we haven't received any firm, corporate [commitment]. We've publicized the dinner on social media … with rack cards at local banks and some of the local shops, pretty much the same [outreach] we've done every year, so I don't know why things are so slow. We even mailed postcards to 11,000 addresses in the 19428 [postal code]."
Leone and Mandracchia say they hope they won't have to dip too deeply into the project's small reserve fund to subsidize a shortfall.
"At the moment, we're just staying optimistic that word will get out that we still need donations and hoping people will come through the way they have in the past," he says.
Izenberg's joined the dinner team last year.
"They were very eager to assist, and they've been great," Leone says. "We purchase the meals from them at a terrific price, and they prep them fresh on Christmas morning. The food is hot and delicious, and they do a wonderful job. The way it works, people who've reserved meals ahead can pick them up between 10 a.m. and 1 p.m. They just give their names and the number of platters they've ordered."
No questions asked.
When the first Conshohocken Free Christmas Dinner was held, it was seen as a way to lessen the demands made on Colonial Neighborhood Council's community food pantry during and immediately after the winter holidays. CNC is based at 107 E. Fourth Ave., Conshohocken, but provides a variety of outreach and emergency services for residents of the entire Colonial School District. The latter also includes Plymouth and Whitemarsh townships.
"As long as we have the resources, we'll provide a meal for anyone who requests one," Leone says. "Of course, we're hoping that people only request a meal if they're truly in need, so we can continue to provide for the people who really need our help."
Those requests should be made at the Conshohocken Free Christmas Dinner website (conshohockenfreechristmasdinner.com). If potential recipients do not have access to a computer or smartphone, Leone suggests they use the computers at Conshohocken Free Library, Fayette Street at Third Avenue.
All meal requests must be made by Dec. 21.
Area businesses, civic groups and individuals who would like to make a donation to the Conshohocken Free Christmas Dinner project can do so via credit card or PayPal at the same website.
Article: https://www.timesherald.com/news/conshohocken-free-christmas-dinner-seeks-donations/article_edff9a12-64ec-56a1-a01d-fce9552ff003.html